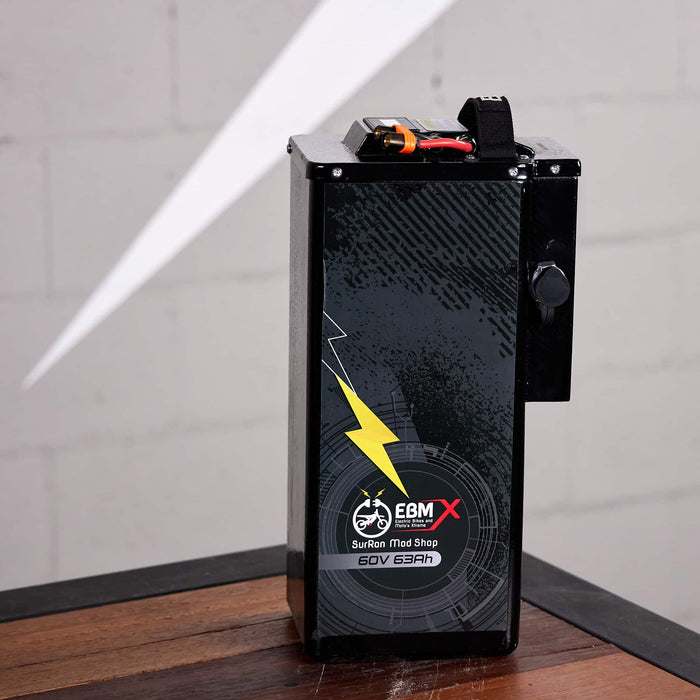 EBMX Surron Battery 60v63ah
Introducing the EBMX 60V 63Ah Surron Battery: Unleash the Power of Electric Mobility

Are you ready to elevate your electric vehicle experience to new heights? Look no further than the EBMX 60V 63Ah Surron Battery. Engineered to deliver unparalleled performance and endurance, this cutting-edge battery pack is designed specifically for Surron electric bikes, providing a significant boost to their power and range capabilities. Whether you're a thrill-seeking off-road enthusiast or a daily urban commuter, the EBMX Surron Battery is here to redefine your electric mobility.

Unmatched Power and Reliability:

The EBMX Surron Battery boasts an impressive 60V voltage rating and a massive 63Ah capacity, allowing you to push the boundaries of speed and distance. With its high-energy density lithium-ion cells and advanced battery management system, this battery pack ensures reliable and consistent power delivery throughout your ride, enabling you to conquer challenging terrains with ease. Say goodbye to range anxiety and experience true freedom on your Surron electric bike.

Extended Range for Enhanced Adventures:

Embark on longer journeys and explore new horizons without worrying about running out of power. The EBMX Surron Battery offers an extended range that enables you to take your electric bike to places you've never been before. Whether you're exploring mountain trails, cruising through the city streets, or embarking on an epic adventure, this battery will keep you going for miles, delivering a thrilling ride every time.

Built to Last:

Durability and longevity are at the heart of the EBMX Surron Battery's design. Crafted using high-quality materials and precision engineering, this battery pack is built to withstand the rigors of off-road riding and daily commuting. With its robust construction and reliable performance, you can confidently tackle any terrain, knowing that your battery will keep up with your demands.

Quick and Convenient Charging:

Recharge your Surron electric bike's battery quickly and conveniently, thanks to the EBMX Surron Battery's compatibility with standard charging solutions. The battery pack features a user-friendly charging interface that allows for effortless connection to charging stations or wall outlets. Get back on the road in no time, ensuring minimal downtime and maximum enjoyment.

Safety First:

Your safety is paramount, and the EBMX Surron Battery incorporates multiple safety features to provide peace of mind during your rides. With overcharge and over-discharge protection, short circuit prevention, and temperature monitoring, this battery pack prioritizes your safety while maximizing performance. Ride confidently, knowing that your electric bike is equipped with a reliable and secure power source.

Upgrade to the EBMX Surron Battery Today:

Transform your Surron electric bike into an unstoppable force with the EBMX 60V 63Ah Surron Battery. Unleash the full potential of your electric vehicle, whether you're seeking adrenaline-fueled adventures or a more efficient daily commute. Upgrade to the EBMX Surron Battery and experience the future of electric mobility today.